Building out the Go Playground Liquid Tag for DEV with Chuck Smith
At then end of July, I had a chance to pair with awesome community member Chuck Smith.
They implemented a liquid tag for the Go Playground. For those interested, here is the PR.
The https://github.com/forem/forem/pull/9577 repository on GitHub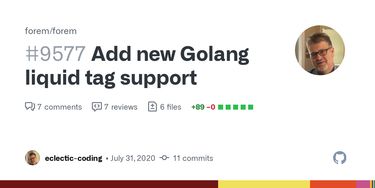 I really enjoyed talking with Chuck, especially in this clip.
Give them a follow on DEV as well as Twitter and just a reminder... they're looking for their first role!
Looking for first #dev role as a part of a good team. #FlatironSchool grad, many years of Frontend experience, some freelance, love back end as well. #React #Rails #VueJS HTML SCSS
Blog: https://t.co/kkyb4Gn2hx
Portfolio: https://t.co/ykG4DAfPwQ#KeepLearning #HireMe

— Chuck Smith 💻 🇺🇦 (@EclecticCoding) June 21, 2020
Now that summer is over and I'm back from vacation, we're getting back into the swing of things for pairing on Forem issues.
Super excited to have @Code_Kuroi on the stream this week for a live coding pairing session on a @forem issue. We'll be streaming this Thursday at 1.30 PM EDT (5.30pm UTC) https://t.co/Xy2u7mGAQb #DEVCommunity #ForEmpoweringCommunity #LearnInPublic

— Nick Taylor (he/him) (@nickytonline) September 15, 2020
I'll be joined by TJ this week on Thursday.
Looking forward to the next pairing session!
P.S.: Feel free to subscribe to my Twitch channel and my YouTube channel. 😉