Shout out to Josh Comeau for pointing me towards this repo. He popped it in my Twitter feed.
A really cool way to view git history for those that like a nice visual. Slide through the history and see previous changes elegantly slide in.
I made a CLI for Git History, it works with any local git repo.
Try it: "npx git-file-history your/file.foo".

The repo is here (5k⭐️ already!) https://t.co/3benAi3rTP pic.twitter.com/KaMCD5FJCv

— Rodrigo Pombo (@pomber) February 11, 2019
"Quickly browse the history of any GitHub (GitLab and Bitbucket comming soon)"
The https://github.com/pomber/git-history repository on GitHub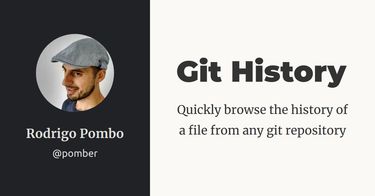 Thanks for the interesting project @pomber!
Photo by Nathan Anderson on Unsplash